TEMPLE ADMINISTRATION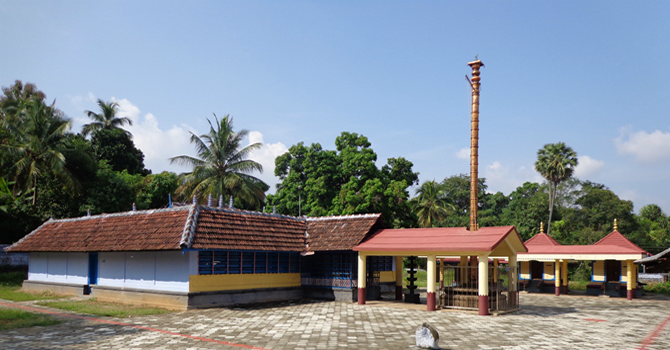 The Temple is administered by an active committee of 25 members elected by mannadiar community of padinjarethara, kuthanur.
MANNADIAR SOCIETY
(mannadiar the word rooted from mun or mannu (earth) and nediyavars or udayors(lords, jenmi, or earners ) clubbed to form mannadiar) During the ruling period of chera, chozha and pandya, a subdivision of vellalar of chozha kingdom migrated to kerala (chera kingdom) for business purpose. They settled in the eastern parts of palakkad like kuthanur padinjarethara, kuthanur kizhakke thara, Pallassana Vadakkethara,athipotta, Kizhakkancheri mambadu, kallur , keralassery and kodumbu. Before the settlement of these people there was no caste in the name of mannadiar. They are known as nair mannadiar palakkad (belongs to chozha kingdom). (Ref. william logans Malabar manual vol. 1. Page no. 133, 134 and prof. C.Rajus "chenthamizh velir M G R"). They are also called ANCHARA PARISHA MANNADIARS.
As a sign of respect male members are addressed as "MANNATTAPPAN" and female members as 'MANNATTAMMA" (Dravidian mannadi means immigrant land owners in palakkad and Dravidian appan means father). Agriculture and business were their traditional ways of earning livelihood in olden days. Families without even a small paddy field was very rare in those times . Most of them own Farm houses, called "Kalam" which means the place for after harvesting activities of paddy. They built quadrangle(nalukettu) and lived as joint families. The serpent is also worshipped by Mannadiars. Sarpakavu were found in the southwestern corner of many of the Mannadiar Tharavadu compound . Sarpa Pooja will be performed once a year by the family members.
They built wellknown temples and ponds. kuthanur padinjarethara sri melur thalachilavan temple,pallassena sri meenkulathi temple,kuthanur kizhakkethara sri bhagavathi temple, athipotta sri mangottu kavu temple, Kizhakkancheri mambadu sri kattukulangara bhagavathi temple, kallur keralassery sri perumanjirakkavu bhagavathi temple – these are ancient and well known temples owned by the mannadiars of the respective places.